RUBBER POND LINERS

Pond liners made from synthetic rubbers are significantly more flexible and durable than liners made from plastics such as polyvinyl chloride (PVC), high-density polyethylene (HDPE), Polypropylene (PP), or thermoplastic polyolefin (TPO). Understanding the important differences between pond-grade rubbers and roofing rubbers and deciding what type of pond-grade rubber is best for each project requires a rudimentary understanding of how synthetic rubbers are made and how they differ.
SYNTHETIC RUBBER: A synthetic rubber is made by mixing one or more rubber polymers– the chemical backbones of rubbers responsible for their distinctive elastic properties– together with oils, carbon-black, sulfur, and other substances that provide the desired color, flexibility, strength, and hardness. This mixture passes between massive steel rollers which squeeze it into a thin sheet of uncured rubber. Since uncured rubber is very sticky, it must either be dusted with mineral talc (talc-process) or layered between sheets of fabric (talc-free process) so that it can be rolled up without sticking to itself and fusing into one solid mass. The roll is then baked in an oven until it chemically cures into the elastic substance we normally think of as rubber.
EPDM RUBBER: EPDM is the name given to the class of synthetic rubbers made primarily from EPDM polymer, shorthand for Ethylene Propylene Diene Monomer. Although there are hundreds of ways to formulate EPDM rubber from EPDM polymer, all share a chemical structure that gives them extraordinary resistance to heat, cold, sunlight, and air pollution. EPDM has been primarily used for waterproofing in exposed environments where long-term weatherability is essential, such as for waterproofing large flat roofs on commercial buildings. Since an EPDM rubber sheet can be formulated by combining as little as 30% of EPDM polymer with 70% of oils and fillers, it is relatively inexpensive to manufacture. As a consequence, EPDM rubbers are among the lowest priced of all synthetic rubbers.
EPDM RUBBER POND LINERS: The characteristics of an EPDM rubber sheet is determined both by the particular EPDM compound (mixture of ingredients) selected. Since any rubber made primarily of EPDM polymer can be called EPDM rubber, there are many types of EPDM and simply purchasing an EPDM sheet for use as a pond liner can be risky in the absence of information about the other ingredients which make up the majority of the formula. For example, certain curing compounds, fire-retardants, and fillers commonly used in EPDM roofing sheets rubber can be toxic to aquatic life. Pond-grade EPDM rubbers must be specially formulated and tested to be safe for plants, fish, and other aquatic life. We offer two pond-grade EPDM sheets: Pond EPDM and Conservation Technology EPDM, both of which have a long track record of safe use for pond lining.
POND LINER THICKNESS: Thickness of synthetic rubbers is expressed in mils: one mil equals one-thousandth of an inch or one-fortieth of a millimeter. In general, the thickness of rubber has little effect on environmental aging characteristics of a liner, but can have a significant effect on the ease of installation and resistance to mechanical abuse. Irregular free-form garden ponds, especially those smaller than 500 square feet, should be lined with 30 mil (0.75mm) rubber for the neatest results with the fewest folds. Larger free-form ponds, or small ponds with simple rectangular or elliptical shapes, can be successfully lined with 40 mil (1.0mm) or 45 mil (1.15 mm) rubber. Recreational ponds, stormwater ponds, irrigation reservoirs, canals, artificial wetlands, and other large projects are usually lined with 60 mil (1.5mm) rubber since it is easier to seam and is considerably stronger than thinner sheets. 60 mil sheet is also preferred for waterfalls and streams.
POND EPDM: Pond EPDM is our most popular and affordable EPDM rubber pond liner. It is manufactured with the talc process (see above) which leaves a mineral talc residue that gives it a slightly shiny surface: sheet color can vary from dark black to charcoal gray, depending on the amount of talc present. White streaks of talc may be present, but will usually disappear with time. Standard sizes in 45 mil thickness follow. Sizes shown in plain type are stock sizes that generally ship within 24 hours. Sizes in italics are not stock sizes and may involve shipping delays.
| | | | | | | | | |
| --- | --- | --- | --- | --- | --- | --- | --- | --- |
| 5 x 5 | | | | | | | | |
| 5 x 10 | 10 x 10 | | | | | | | |
| 5 x 15 | 10 x 15 | 15 x 15 | | | | | | |
| 5 x 20 | 10 x 20 | 15 x 20 | 20 x 20 | | | | | |
| 5 x 25 | 10 x 25 | 15 x 25 | 20 x 25 | 25 x 25 | | | | |
| 5 x 30 | 10 x 30 | 15 x 30 | 20 x 30 | 25 x 30 | 30 x 30 | | | |
| 5 x 35 | 10 x 35 | 15 x 35 | 20 x 35 | 25 x 35 | 30 x 35 | | | |
| 5 x 40 | 10 x 40 | 15 x 40 | 20 x 40 | 25 x 40 | 30 x 40 | | | |
| 5 x 50 | 10 x 50 | 15 x 50 | 20 x 50 | 25 x 50 | 30 x 50 | 35 x 50 | 40 x 50 | 50 x 50 |
| 5 x 100 | 10 x 100 | 15 x 100 | 20 x 100 | 25 x 100 | 30 x 100 | 35 x 100 | 40 x 100 | 50 x 100 |
| 5 x 150 | 10 x 150 | 15 x 150 | 20 x 150 | 25 x 150 | 30 x 150 | 35 x 150 | 40 x 150 | 50 x 150 |
| 5 x 200 | 10 x 200 | 15 x 200 | 20 x 200 | 25 x 200 | 30 x 200 | 35 x 200 | 40 x 200 | 50 x 200 |
For large water features and lakes we can generally supply the following non-stock roll sizes in 60 mil thickness:
| | | | | |
| --- | --- | --- | --- | --- |
| 10 x 100 | 20 x 100 | 30 x 100 | 40 x 100 | 50 x 100 |

CONSERVATION TECHNOLOGY EPDM: Conservation Technology EPDM Rubber is our highest quality EPDM pond liner. Its superior performance makes it the liner of choice for projects that demand the very best liner available. It is manufactured with the talc-free process (see above) that yields a clean, slightly textured black surface. We custom-fabricate 30 mil, 40 mil, and 60 mil sheets to order, so there are no standard sizes. In addition to simple rectangles, we can make almost any shape that can be drawn as a series of 5'6" strips of rubber (with certain length limitations), such as the following shapes:
| | | |
| --- | --- | --- |
| rectangle | ellipse | kidney |
| crescent | pear | freeform |

CUSTOM THREE-DIMENSIONAL LINERS: Where folds are not acceptable, such as for formal reflecting ponds, we can fabricate three-dimensional rectangular liners with vulcanized corners in Conservation Technology EPDM Rubber. We can also fabricate three-dimensional L-shapes and cylinders, but these can be very expensive and may require long lead times. The walls of the pond must be accurately formed of wood, masonry, or concrete: three-dimensional liners cannot be used with soil or rustic stone walls. The liner can be fastened to the walls with our black metal termination bars and termination bar tapes, or it can be wrapped over the top as shown.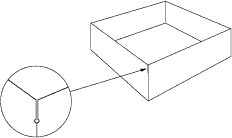 If the liner is to be wrapped over the top of the pond walls,
size the liner at least four inches taller than the pond.
Position the liner in place, and fill it partially with water.
Cut a small round hole at each corner of the pond walls
and slit the corners to make four side flaps.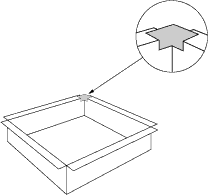 The open corners of the flaps can be sealed with a small square
of uncured repair tape. After the rubber is cleaned, the tape
is positioned so that it hangs over the pond approximately two inches.
Since the tape is stretchable, it can be formed into the corner.
FIELD SEAMS AND REPAIRS: Whenever possible, a pond should always be lined with a single sheet of rubber. Since sizes up to 50 ft x 200 ft are standard in Pond EPDM and even larger sizes are possible in Conservation Technology EPDM, field seaming in residential-scale work is usually limited to joining a stream or waterfall to a pond.
Larger projects such as recreational ponds and reservoirs will require field seaming several large sheets with a two-step process utilizing our self-adhesive seam tapes and laminates that are cold-applied without specialized equipment (see Seams). Note that we do not recommend the use of contact adhesives commonly used for rubber roofing, since these adhesives are too weak and have insufficient resistance to ponded water to be reliable for seaming pond liners. When we supply liners for a project requiring field seaming, our technical staff reviews all the details to make certain that the project can be successfully completed.
Holes can be permanently patched with our self-adhesive repair laminates; stream and waterfall liners can be easily joined to pond liners with our self-adhesive seam tapes (see Repairs).
LIFETIME: Pond EPDM and Conservation Technology EPDM liners are warranted for twenty years, subject to certain limitations (request written warranty for details). Extensive field experience suggests that they will last longer than twenty years in severe above-ground environments and perhaps longer than fifty years in protected underwater or underground environments.
PACKING AND HANDLING: Pond EPDM liners 50 feet and longer are supplied accordion-folded and rolled; shorter liners are supplied accordion-folded and boxed. Stock 40 mil rolls are shipped on 7 foot cardboard cores; non-stock 40 mil rolls and 60 mil rolls are shipped on 11 ft long cardboard cores. All Pond EPDM liners are supplied boxed, accordion-folded in both directions. Both types of EPDM rubber weigh approximately 0.2 pounds per square foot in 30 mil thickness, 0.3 pounds per square foot in 40 mil or 45 mil thickness, and 0.4 pounds per square foot in 60 mil thickness.
Pond EPDM 50 ft and longer
is supplied accordion-folded in rolls.

All other liners are supplied
accordion-folded in boxes.
When ordering a large liner, be prepared to get the roll or box off the delivery truck and get it to the site since the delivery company will not do this for you. Position the roll or box at one corner of the pond, either on the surrounding land or within the pond. Carefully remove the roll wrapper or open the box to see how the rubber is folded and then orient the roll or box in the proper direction. After checking the site to make certain there are no sharp objects that could snag the liner, unroll or unfold the liner into a long strip beside or into the pond and then pull the liner across the pond, flapping it slightly to force air under the liner to help it float into place.
Unfold or unroll the liner,
making a long strip beside
or within the pond.

Then pull the liner across the pond,
flapping it slightly to force air under
the liner to help it float into place
PRICING:
Pond EPDM Rubber Liners
45 mil Pond EPDM Liner, 5 ft x 5 ft - $18.00
45 mil Pond EPDM Liner, 5 ft x 10 ft - $36.00
45 mil Pond EPDM Liner, 5 ft x 15 ft - $54.00
45 mil Pond EPDM Liner, 5 ft x 20 ft - $72.00
45 mil Pond EPDM Liner, 5 ft x 25 ft - $90.00
45 mil Pond EPDM Liner, 5 ft x 30 ft - $108.00
45 mil Pond EPDM Liner, 5 ft x 35 ft - $126.00
45 mil Pond EPDM Liner, 5 ft x 40 ft - $144.00
45 mil Pond EPDM Liner, 5 ft x 45 ft - $162.00
45 mil Pond EPDM Liner, 5 ft x 50 ft - $180.00
45 mil Pond EPDM Liner, 5 ft x 100 ft - $360.00
45 mil Pond EPDM Liner, 10 ft x 10 ft - $72.00
45 mil Pond EPDM Liner, 10 ft x 15 ft - $108.00
45 mil Pond EPDM Liner, 10 ft x 20 ft - $144.00
45 mil Pond EPDM Liner, 10 ft x 25 ft - $180.00
45 mil Pond EPDM Liner, 10 ft x 30 ft - $216.00
45 mil Pond EPDM Liner, 10 ft x 35 ft - $252.00
45 mil Pond EPDM Liner, 10 ft x 40 ft - $288.00
45 mil Pond EPDM Liner, 10 ft x 45 ft - $324.00
45 mil Pond EPDM Liner, 10 ft x 50 ft - $360.00
45 mil Pond EPDM Liner, 10 ft x 100 ft - $720.00
45 mil Pond EPDM Liner, 15 ft x 15 ft - $162.00
45 mil Pond EPDM Liner, 15 ft x 20 ft - $216.00
45 mil Pond EPDM Liner, 15 ft x 25 ft - $270.00
45 mil Pond EPDM Liner, 15 ft x 30 ft - $324.00
45 mil Pond EPDM Liner, 15 ft x 35 ft - $378.00
45 mil Pond EPDM Liner, 15 ft x 40 ft - $432.00
45 mil Pond EPDM Liner, 15 ft x 45 ft - $486.00
45 mil Pond EPDM Liner, 15 ft x 50 ft - $540.00
45 mil Pond EPDM Liner, 15 ft x 100 ft - $1080.00
45 mil Pond EPDM Liner, 20 ft x 20 ft - $288.00
45 mil Pond EPDM Liner, 20 ft x 25 ft - $360.00
45 mil Pond EPDM Liner, 20 ft x 30 ft - $432.00
45 mil Pond EPDM Liner, 20 ft x 35 ft - $504.00
45 mil Pond EPDM Liner, 20 ft x 40 ft - $576.00
45 mil Pond EPDM Liner, 20 ft x 45 ft - $648.00
45 mil Pond EPDM Liner, 20 ft x 50 ft - $720.00
45 mil Pond EPDM Liner, 20 ft x 50 ft - $1440.00
45 mil Pond EPDM Liner, 25 ft x 25 ft - $450.00
45 mil Pond EPDM Liner, 25 ft x 30 ft - $540.00
45 mil Pond EPDM Liner, 25 ft x 35 ft - $630.00
45 mil Pond EPDM Liner, 25 ft x 40 ft - $720.00
45 mil Pond EPDM Liner, 25 ft x 45 ft - $810.00
45 mil Pond EPDM Liner, 25 ft x 50 ft - $900.00
45 mil Pond EPDM Liner, 30 ft x 30 ft - $648.00
45 mil Pond EPDM Liner, 30 ft x 35 ft - $756.00
45 mil Pond EPDM Liner, 30 ft x 40 ft - $864.00
45 mil Pond EPDM Liner, 30 ft x 45 ft - $972.00
45 mil Pond EPDM Liner, 30 ft x 50 ft - $1080.00
other sizes in 45 mil or 60 mil - $call
Conservation Technology Rubber Liners
30 mil Conservation Technology Pond Liner, 5.5 ft x 82 ft - $call
30 mil Conservation Technology Pond Liner, 5.5 ft wide, per foot - $call
40 mil Conservation Technology Pond Liner, 5.5 ft x 82 ft - $call
40 mil Conservation Technology Pond Liner, 5.5 ft wide, per foot - $call
60 mil Conservation Technology Pond Liner, 5.5 ft x 82 ft - $call
60 mil Conservation Technology Pond Liner, 5.5 ft wide, per foot - $call
pre-fabricated sizes in 30 mil, 40 mil, or 60 mil - $call